PAN FEEDERS AND GRIZZLY SCREENS
PAN FEEDERS AND GRIZZLY SCREENS
They are set of two machines placed under the primary hoppers; a pan feeder and a grizzly screen to separate fine material efficiently before entering the primary crusher. They feed raw materials to the primary crushers without fines in it.

MTM Pan Feeders and Grizzly Screens with their robust and very strong hoppers are selected appropriately by high experienced technical staff by considering all the properties of raw materials and required feeding capacities. They are manufactured with high qualities by using up-to-date technologies and work for our customers successfully.

MTM Feeders and Grizzly Screens run with the principle of vibrating main assembly with high amplitude by using unbalanced electrical motors (Vibromotors). Their performances are increased to high levels by adjusting the running frequencies according to material characteristics.

MTM Pan Feeders and Grizzly Screens are very suitable for non-abrasive, dry, medium dense, medium size and non-sticky materials. Separating the fine materials from the feed by Grizzly Screens increases the capacity of the primary crusher, it also decreases wear in crusher parts and enables mainstream of line to be cleaned from dirty materials.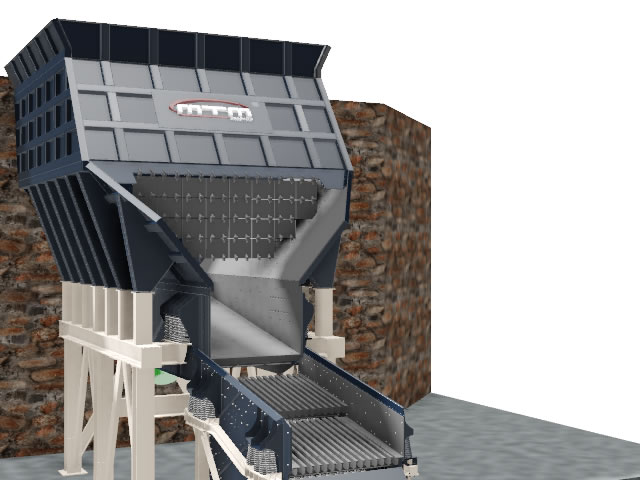 Vibromotors
They are unbalanced electrical motors used to make main feeder assembly vibrated with high frequency. They can be controlled with frequency convertor to increase feeding performances to higher levels.
Grizzlies
Grizzlies of the feeder are manufactured from Hardox wear plate and are designed to be adjustable for high efficiencies for by-passing materials.
Base and Side Liners
They are provided to customers with the options of HARDOX and ST52 wear-resistant plates
Vibromotors Chassis
Heavy Duty Chassis of the vibromotors is stress-relieved and assembled to the main body with bolts to make sure it's robustness and to withstand severe vibrations.
Technicial Specifications
| FEEDER MODEL | FEEDER DIMENSIONS (mm) | FEEDER MOTOR POWER (Kw) | GRIZZLY SCREEN MODEL | GRIZZLY SCREEN DIMENSIONS (mm) | GRIZZLY SCREEN POWER (Kw) | BUNKER VOLUME(m3) | CAPACITY (mtph) |
| --- | --- | --- | --- | --- | --- | --- | --- |
| MPF-1046 | 950x4600 | 2x8 | MGS-1030 | 1050x3000 | 2x5,3 | 20-25 | 150-200 |
| MPF-1252 | 1200x5200 | 2x9,8 | MGS-1330 | 1300x3000 | 2x8 | 25-40 | 200-300 |
| MPF-1452 | 1400x5200 | 2x11,5 | MGS-1530 | 1500x3000 | 2x10,2 | 40-60 | 300-600 |
| MPF-1860 | 1800x6000 | 2x13,8 | MGS-1940 | 1900x4000 | 2x11,5-2x19,5 | 60-80 | 450-900 |