Secondary Impact Crushers
Secondary Impact Crushers
Machines used to crush materials less than 300-400 mm in size are called secondary crushers.

The aim of the secondary stage is having material size reduced to 0-60,0-40 or 0-35 mm.

Secondary jaw or cone crushers should be selected for hard and abrasive materials to maintain optimum operating costs.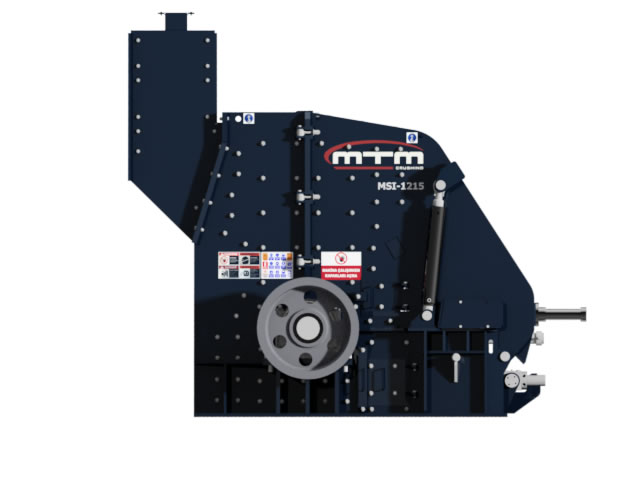 Rotor
Blow bars that can easily be replaced by wedge tightening system and their chemical characteristics can be selected according to the properties of rock types.
Main Assembly
Crushing Efficiency is increased to highest level through its specially designed main body and crushing chamber.
Upper Assembly is opened by hydraulic pistons and separated from the lower body for ease of maintenance
Side Liners and Wear Parts
Casted Parts with High Manganese and Chromium options depending the characteristics of materials are used in Main Assembly and rotors.
Bearings
Long life SKF Bearings and thermal sensors are used in housings of the rotor. FAG Bearings are optional for our customers
Automatic Lubrication system is an OPTION.
DMK TYPE SECONDARY IMPACT CRUSHERS
| MODEL | Rotor Dimensions (mm) | Capacity (mtph) | Rotor Speed (rpm) | Power (Kw) | Weight(kg) |
| --- | --- | --- | --- | --- | --- |
| MSI-1205 | 1120*500 | 100-140 | 600-740 | 110 | 9500 |
| MSI-1210 | 1120*1000 | 130-200 | 600-740 | 160 | 20500 |
| MSI-1112 | 1120*1250 | 170-250 | 600-740 | 200 | 22500 |
| MSI-1215 | 1120*1500 | 200-300 | 600-740 | 250 | 27000 |
| MSI-1415 | 1400*1500 | 240-420 | 600-740 | 400 | 30500 |
| MSI-1420 | 1400*2000 | 380-600 | 600-740 | 500 | 35000 |
OLD GENERATION- K SERIES SECONDARY IMPACT CRUSHERS
| MODEL | Rotor Dimensions (mm) | Capacity (mtph) | Rotor Speed (rpm) | Power (Kw) | Weight(kg) |
| --- | --- | --- | --- | --- | --- |
| MSI-35 | 1535*1800 | 180-260 | 275-370 | 160 | 18500 |
| MSI-36 | 1535*1000 | 75-135 | 320-490 | 90 | 10000 |
| MSI-37 | 1250*1650 | 350-400 | 500 | 250 | 25000 |
| MSI-38 | 1250*1400 | 200-300 | 500 | 200 | 22500 |
NEW TYPE SECONDARY IMPACT CRUSHERS
| MODEL | Rotor Dimensions (mm) | Capacity (mtph) | Rotor Speed (rpm) | Power (Kw) | Weight(kg) |
| --- | --- | --- | --- | --- | --- |
| MTM-1110 | 1120*1000 | 140-220 | 600-740 | 160 | 20000 |
| MTM-1112 | 1120*1250 | 180-265 | 600-740 | 200 | 22000 |
| MTM-1115 | 1120*1500 | 220-330 | 600-740 | 250 | 26500 |
| MTM-1420 | 1400*2000 | 400-640 | 600-740 | 500 | 34000 |