Impact Crushers are preferred machines to crush soft and medium-hard materials with high capacities and reduction ratios. Since crushing occurs by high impact energy of the rotor, the percentage of cubical products is higher than jaw and compression type crushers.
Impact crushers can be used at every stage of a crushing plant.
MTM Crushing&Screening Company's product range has wide range and size of impact crushers for primary, secondary, tertiary and micronization stages of the plants.

MTM Impact Crushers are robustly designed and manufactured by high experienced engineering staff considering latest technologies, Health and Safety rules.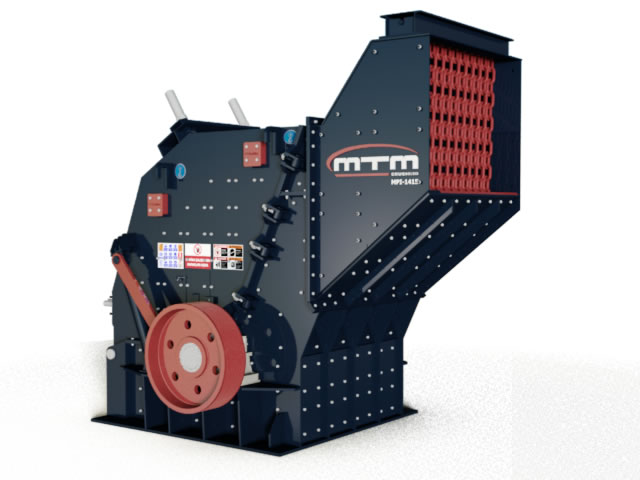 Rotor
Reinforced disks and blow bar supports, high-manganese or high-chromium blow bars are used according to materials and bars can easily be replaced by wedge tightening system.
Main Assembly
Main Body is manufactured with first quality steel sheets having thickness of 20mm.
Maintenance is very easy with the help of hydraulic pistons and monoray-crane system already placed on the main assembly.
Breakers
There are two independently placed breakers set as standard. Third set is optional and can be recommended according to applications. Safety mechanism of the breakers set minimizes the risk of breakage when uncrushed parts enter the crusher.
Side Wear Parts
Strong and Wear-Resistant high-manganese casted liners are used.
Bearings
Long life SKF Bearings and thermal sensors are used in housings of the rotor. FAG Bearings are optional for our customers
Technicial Specifications
| MODEL | Rotor Dimensions (mm) | Capacity (mtph) | Rotor Speed (rpm)) | Power (Kw) | Weight(kg) |
| --- | --- | --- | --- | --- | --- |
| MPI-1412 | 1400*1200 | 200-400 | 435 | 200 | 23000 |
| MPI-1415 | 1400*1500 | 420-630 | 474 | 315 | 27700 |
| MPI-1617 | 1600*1700 | 500-760 | 435 | 400 | 45600 |
| MPI-1620 | 1600*2000 | 600-1000 | 435 | 500 | 52000 |