Hammer Crushers are used for non-abrasive soft or medium hard materials to get high reduction ratios. Commonly there are grizzly screening system under the rotor to get a final product without using a separate screen.

MTM Crushing&Screening Technical Staff have designed and manufactured hundreds of crushers with different types and capacities for customers.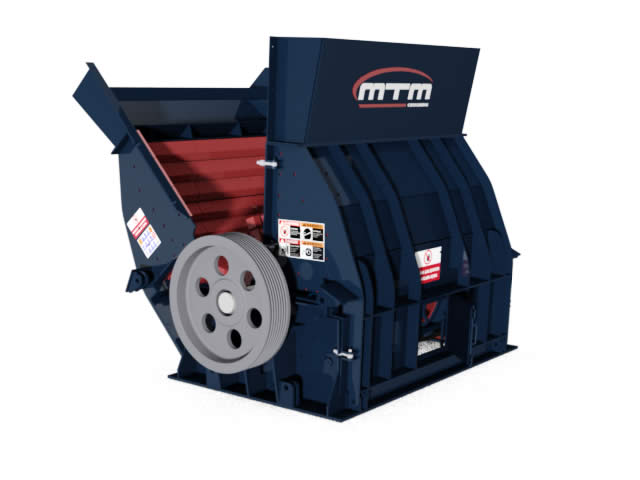 Grizzlies
There are high-manganese steel casted or made up of special metal sheet grizzlies placed under the rotor to get product with required size and fineness.
Hammers
Standard or specially designed and casted hammers can be selected according to the characteristics of materials. Contact surfaces of hammers with the shaft are machined to obtain smooth running and to prevent cracking.
Rotor Discs
Rotor Discs are high strength parts which are made from Casted Steel or High-Strength Sheet Metals. They are precisely machined and assembled to create very strong rotor of the hammer crusher.
Liners
Wear resistant High Manganese Casted Steel liners are used for protection of main assembly and for the breakers inside.
Technicial Specifications
| MODEL | Rotor Dimensions (mm) | Capacity (mtph) | Rotor Speed (rpm) | Power (kw) | Weight(kg) |
| --- | --- | --- | --- | --- | --- |
| MHC-0808 | 800*810 | 20-45 | 900 | 45 | 4700 |
| MHC-1014 | 1000*1360 | 40-120 | 770-900 | 90-132 | 8000 |
| MHC-1214 | 1200*1410 | 100-250 | 740 | 132-160 | 11200 |
| MHC-1220 | 1200*2000 | 130-300 | 740 | 250 | 18700 |
| MHC-1416 | 1400*1600 | 130-400 | 550-740 | 400 | 24000 |