Belt Conveyors are used to convey crushed materials to the next stage of the aggregates or mining plants. All the equipment including belt conveyors in the plants should do their duties perfectly to reach high efficiency in plants. Regardless of how well the feeders, crushers and other plant equipment in the plant work, the entire plant is adversely affected if any one of the belt conveyors fails.

MTM Belt Conveyors have a very strong special bending profile frame, high quality of the equipment used and play an important role in the healthy and efficient operation of the plants.

In addition, all the latest technological developments have been applied to the belt conveyors that we have produced to maximize performance and safety.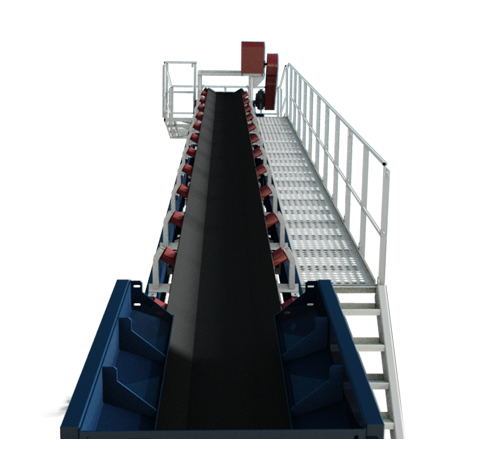 MTM Belt Conveyors
are carefully selected according to the required capacity with variable sizes ranging from 500 mm to 2000 m.
MTM's Research and Development Engineers can work successfully in the special designs of belt conveyors required by our customers.
Impact Rollers
Transfer points where the material meets the belt conveyors are risky areas that the belts and rollers can be damaged. Special rubber-coated impact rollers are used which are particularly resistant to impact in transfer points in order to prevent damages to belts and rollers.
Belt Slip and Backstops
In our Belt Conveyors, guide rollers are installed on the sides of the conveyor to prevent belt slippages.
Backstops are standard for long and inclined belt conveyors, in addition to this, chevron belts are used in belt conveyors with higher inclinations than standards